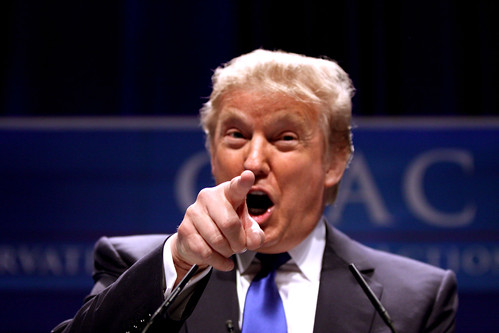 A well-publicized bout of illicit sex never did any celebrity's reputation harm; often, a lot of good. But how does it affect a politician's? Up to last week, you'd probably say: ruinously. But the election of Donald Trump (pictured above) amid a tsunami of accusations from women who claim he either touched or propositioned them inappropriately has forced us to change our minds.
It's at least possible that, far from being damaged by the allegations, Trump actually profited from them. For a while he looked almost like a victim: someone whose every wink and flirtatious gesture over the past thirty years had suddenly returned as a baleful curse. Practically every day for about a fortnight, fresh grievances appeared; women, who had been silent for years, decided it was time to make their claims public.
After a while, it seemed Trump's denials were useless and that his presidential campaign was wrecked. At least according to many journalists. But maybe there was a rebound in public sympathy with voters who doubted the authenticity of the claimants, lending their support to the beleaguered Trump.
He wasn't the first US President or prospective President to have extricated himself from a potentially career-wrecking sex scandal and perhaps Trump owes his survival to the strategy adopted by none other than the husband of his presidential rival.
Bill Clinton is a liminal figure, occupying a position on both sides of the celebrity politician divide: he had a successful political career as governor of Arkansas, 1979-81, and 1983-93, before becoming president. Clinton cut a beguiling figure en route to the presidency: telegenic and good-looking, he also had the sheen of authenticity, appearing natural and relaxed on television.
Clinton arrived at the White House in 1993 in the middle of a media revolution, with cable television providing a 24-hour news cycle. His arrival also coincided with a voyeurism diffusing through the population: consumers' interest in private lives practically commissioned the media's intrusive approach and obliged even presidents to expose themselves. On one memorable occasion in 1992, Clinton donned Ray-Bans and played saxophone on a late night talk show. Yet there was more celebrity to Clinton than anyone dared to imagine and, in 1998, he became the central figure of a sex scandal bigger than anything dreamt up by Madonna.
There was a stunning moment shortly after the scandal broke when Clinton appeared on national television and affirmed: "I did not have sexual relations with that woman." That woman was Monica Lewinsky, White House aide, and her account of her relationship with the President was somewhat different. The US President is always a figure of great interest by virtue of his position (there's never been a female President), and this and the several other allegations of sexual peccadilloes that followed marked Clinton out as someone worthy of even greater interest.
Clinton was the US President for two terms of office and, for a while, under threat of impeachment. So the scandal could have had wider-reaching repercussions than it actually did. And the fact that Lewinsky actually worked in politics gave it added relevance. As the concupiscent details of the case unfurled — the semen-stained dress, the cigar, the secretly recorded phone conversations — interest built and, for the final two years of the twentieth century, Lewinsky was one of the most famous women in the world. Her celebrity status manifested in several books about her, an assortment of well-paid endorsement deals, her own line of accessories and a reality tv program in which she featured. She then faded from view.
The affair should have hurt, even destroyed Clinton. Why didn't it? He had narrowly avoided a controversy about his wilder years as a student, when he issued his famous "I did not inhale" notice about his supposed marijuana smoking. The Lewinsky denial could have undermined his credibility.
In December 1998, within months of the denial, Clinton achieved his career highest approval rating of 73. His average approval rating during his term of office was 55.1, below John F. Kennedy, but above Reagan, Jimmy Carter and George W. Bush, among others. He enjoyed a consistently high approval rating among the "baby boomer" generation (those born in the immediate post-second world war period). An experts' poll in 2011 placed Clinton at 19 in the all-time list of presidents. Maybe honesty was no longer part of the Presidential job description.
Clinton remained as President till 2001, when he left office after serving his complete second term. He also acquired a status distinct from that of other politicians, who leave legacies. Clinton could have been remembered for bringing together Israel's Yitzhak Rabin and Yasser Arafat of the Palestine Liberation Front on the White House lawn in 1993, or signing the 1994 Kremlin Accords that stopped the preprogrammed nuclear missiles, or organizing peace talks for Bosnia and Herzegovina in 1995, or ordering cruise missile strikes on Afghanistan in 1998. He could also be remembered as the first president to have solicited the public's favour in spite of deeds that would have damned politicians from earlier eras.
Clinton though was a politician for the celebrity era. Squeaky-clean politicians whose worst vice was an extra-marital fling were, by the 1990s, remnants of another age. Compare his experience with that of former civil-rights leader and Washington DC mayor Marion Barry, who in 1990, was convicted of cocaine possession. A female friend had lured him into a police sting: at their assignation, hidden cameras captured him smoking crack. During his six-week trial, accounts of his sex and drug binges, backed by evidence from a pimps and pushers, were relayed to homes via television. He served six months in jail, but two months after his release, he returned to the city council and, within three years, was re-elected Mayor. In another sex-related case, New York governor Eliot Spitzer resigned after being implicated in a federal investigation into inter-state prostitution in 2008. He barely broke stride, returning in his own television show, his credibility in tact.
John Edwards, a 2004 vice presidential candidate, had an affair with a woman while his wife was dying with cancer. This was scandal enough to blow him off course in his bid for president in 2007, but he would probably have navigated his way back had it not been for allegations that he masterminded a $1 million cover-up of his affair, mis-using funds from two wealthy campaign donors. Substance abuse, carnal activities and sundry other deviant behaviours are, it seems, forgivable; in a way, they humanize a politician, exposing a few of the kind of flaws all of us secrete.
Clinton sailed close to the wind; but it blew in his favour. The political culture in which he prospered had lost the stiffness and propriety of earlier eras and his sexual misconduct was not thought venal. Clinton brought a sense of showmanship and his occasional peccadillo only intensified the drama of his presidency. Even in the midst of the Lewinsky scandal, he battled on like a rock star in his fifties, determined to show his audience he had a few good songs in him. Clinton may not have been the greatest President, but he was surely the most consumable and, as if to prove this, he still tours the world, giving guest lectures, signing copies of his own books, receiving invitations to do spots on tv shows and doing what celebrities do – appear.
There's no evidence at that Trump studied Clinton's expertly manoeuvred strategy. But you can be sure the people surrounding him were aware that a resolve to remain unforthcoming, distant and aloofly silent about the allegations was the only response realistically available to their man. Denial would have just led to further accusations, implicating him in a vortex of claim and counter-claim. Speechlessness effectively killed the narrative. A stream of allegations became repetitive and uninteresting after a while.
Is there irony in this? After all, most celebrities revel in sex scandals. It reminds us that political celebrities – and Trump is now arguably the paragon of these – are different from other celebs. They still need to engage with us in a way that reminds us that they have that indefinable quality of ordinariness; they also need to keep us in close contact via social aswell as traditional media; and they need to surrender their private lives to us – after all, we feel entitled not just to know but to own celebrities.
Yet politicians don't just entertain us: they make decisions that affect our material lives and, possibly, those of our children. We like to know that, for all their flaws and foibles, they have our interests in mind. Trump has skilfully persuaded Americans that, for all his reputed dalliances, he is a man who can be trusted to put his followers' interests before his own. This is a rare feat for a politician today.
Picture courtesy of Gage Skidmore, via Flickr